Trains To Run Every 15 Minutes, and Train Service Runs Until 2:00 a.m.
By Dolores Quintana
The Los Angeles County Metropolitan Transportation Authority (Metro) is gearing up to serve Taylor Swift fans attending her concerts at SoFi Stadium in Inglewood from August 3 to 5 and 7 to 9. In response to the overwhelming demand from fans asking, "Can I Go With You," Metro is stepping up its game by adding and extending services to accommodate the anticipated 60,000 fans per concert.
Fans can leave their "White Horse" at home because Metro provides shuttle bus services to connect Metro rail lines C and K to SoFi Stadium. Additionally, bus service on Line 117 will be increased for those staying at LAX area hotels. Metro Rail will run with greater frequency and extended service hours on all lines to ensure seamless travel.
Swifties can conveniently take the C Line from Redondo Beach or Norwalk, park at the Hawthorne/Lennox station, and catch a shuttle to SoFi Stadium starting at 3:30 p.m. The K-Line will also see additional trains to accommodate E-Line riders coming from Santa Monica or downtown LA/East LA, as well as that parking at the Expo/Crenshaw station. After each concert, Metro will provide shuttle bus services back to both the C and K Lines, with the last shuttle departing 90 minutes after the concert ends.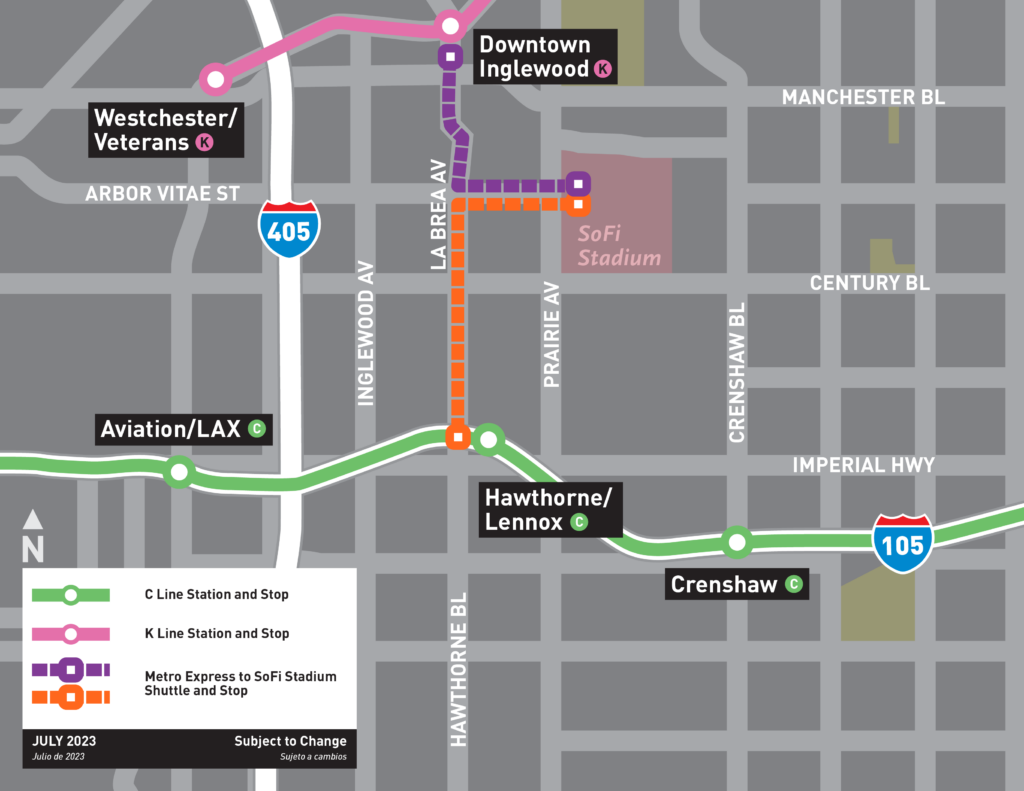 For those who miss a train, there's no need to "Shake it Off" because all Metro rail lines will operate at 15-minute intervals or better, saving riders time compared to the usual 20 minutes between trains. Moreover, Swifties need not worry about getting home in time to "Call It A Day" as the last trains on the rail network will depart downtown Los Angeles from the 7th/Metro Center station at approximately 2 a.m. on concert nights. This ensures connections can be made to the A Line (Azusa to Long Beach), B Line (to North Hollywood), D Line (to Wilshire/Western), and E Line (to Santa Monica or East Los Angeles).
Finding a place to park their "Getaway Car" won't be an issue for attendees, as Metro offers parking at stations throughout the system, with many spots available at C and E Line stations. The parking rates vary by location, ranging from free to $30, depending on proximity to the event venue. For the "Masterminds" who like to plan ahead, Metro strongly encourages purchasing the $3.50 roundtrip fare and loading TAP cards in advance through the TAP LA app (iOS or Android) or at station TAP Vending Machines. Students in the GoPass pilot program can also use their passes to get to SoFi.
No one needs to feel like "You're On Your Own, Kid" because Metro staff will be at key stations to assist new riders with ticket purchases and navigating the rail system and shuttle buses. Stations with helpful staff include Los Angeles Union Station, the Norwalk and Hawthorne/Lennox stations on the C Line, the Expo/Crenshaw and Downtown Inglewood stations on the K-Line, and the Expo/Crenshaw station on the E Line.
The specifics of how to travel from certain areas of Los Angeles are:
Option 1
Take the K-Line to the Downtown Inglewood Station and ride our free bus shuttle to SoFi stadium. The shuttle will run from 3:30 p.m. to 6:30 p.m. before each show. The shuttle will run for 90 minutes after the concert ends.
This option is best for fans coming from the Westside, Eastside, Central LA, and points north. Take the E Line to Expo/Crenshaw Station and transfer to the K-Line across the street.
If coming from the San Fernando Valley, take the B Line to the E Line. If coming from the San Gabriel Valley, take the A Line to the E Line to the K-Line.
Option 2
Take the C Line to the Hawthorne/Lennox Station and ride our free shuttle to SoFi stadium. The shuttle will run from 3:30 p.m. to 6:30 p.m. before each show. The shuttle will run 90 minutes after the concert ends.
This option is best for fans coming from the south and east.
Orange County — take the C Line from Norwalk Station.
South Bay and El Segundo area hotels – take the C Line from Redondo Beach, Douglas, El Segundo, or Mariposa stations.
Long Beach area – take the A Line to Willowbrook/Rosa Parks Station and transfer to the C Line.
Option 3
Take Metro Bus Line 117 from LAX-area hotels along Century Boulevard to SoFi stadium. Board at these stops: LAX City Bus Center, Sepulveda/Century, Century/Avion, Century/Airport, Century/International, Century/Aviation, or points east. Exit at Century/Yukon for the shortest walk to SoFi stadium. Use that stop for return trips. Bus Line 117 will run until 90 minutes after the concert.
If you're new to our system or region, please keep in mind that our service area is HUGE. Riding to the more distant stations from SoFi stadium can take 2+ hours. Plan ahead!
Need help or have a question? Call our Transit Info line at 323.466.3876 between 5 a.m. and 9 a.m. Monday through Friday or 6 a.m. to 6 p.m. on weekends (Pacific time) to speak to an agent.
Metro has also provided a list of parking lots and prices:
Parking:
We have parking at many of our stations for those who want to drive to a station:
There are over 300 parking spots at the C Line's Hawthorne/Lennox Station for $25 apiece that can be purchased online or $30 each when purchased on-site (if available).
Other stations with parking on the C Line are Crenshaw ($3), Aviation ($10), Norwalk ($3 on weekdays, free on Saturdays), and Redondo Beach (free). To pay, use the on-site kiosks.
There are 80 parking spots at the K Line's Fairview Heights Station for $20 apiece that can be purchased on-site.
There are 400 parking spots for $3 each at the Expo/Crenshaw Station, served by our E-Line and K-Line trains. The parking is in a garage one block north of the station. Purchase on-site.
Here's the full list of Metro stations with parking. Private garages and lots are near our stations in downtown Los Angeles, downtown Culver City, and downtown Santa Monica.